Food sourcing is the way food is obtained, including how and where the food is grown, how it is processed, and how it is used. Sourcing is an important part of the food system because the way food is grown can have many consequences. Sustainable food sourcing often includes using food from local suppliers because using imported foods can negatively affect the environment. The environmental effects of a food item can be measured by "food miles", which is the distance the food travels from production to consumer. The farther the food needs to travel to reach the consumer, the more fuel it uses and the more carbon it emits, which contributes to environmental damage. Locally sourced food can provide both business and environmental benefits, such as saving money on transportation costs, since the food does not have to travel as far. This would also reduce the carbon emissions caused by the food miles. Additionally, using food from local sources can help ensure the food is of good quality, while also supporting the local farmers and economy.

HCMC's Ministry of Agriculture and Rural Development established local safe farm produce markets.
Source: https://vietnamnews.vn/economy/420045/hcm-city-plans-more-safe-farm-produce-markets.html#eU7yLhgP42SPwzQx.97

Food banks can collect their food from many different sources and often partner with local businesses. One type of partnership can be with farmers, who frequently face food waste when they cannot sell their "imperfect" crops. According to Champion 12.3, South and Southeast Asia lose 32% of food during the production phase, which includes the time during harvest or immediately after. Food banks can collect the surplus crops from farmers to redistribute, or sometimes even help farmers sell them to businesses for a lower cost.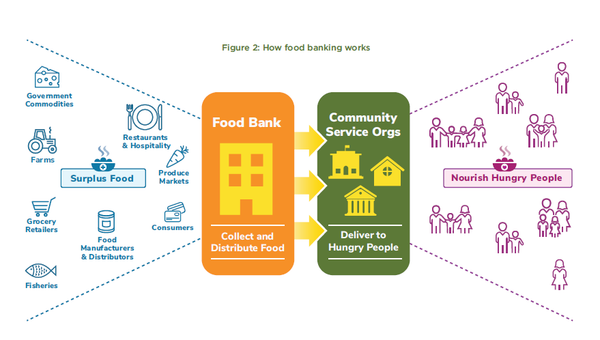 Food banks can source food from many different places. Source: The Global Foodbanking Network, 2018.

Food manufacturers and processors are other sources of food, especially for foods that may not meet their specifications, but are still perfectly edible. Supermarkets and retailers can be important sources of food donations for food banks. First, many retailers have a "sell-by" date, where foods that are not sold by that date will be thrown away, even though they are still edible for some time after. These retailers can provide a range of products, including fresh produce and meats, prepared foods, or even non-food products, depending on what items food banks can store. The food service industry--including restaurants, hotels, office cafeterias, and cafés--can provide food banks with prepared foods. One challenge of accepting prepared foods is that specific processing facilities and technology would be needed to ensure food safety.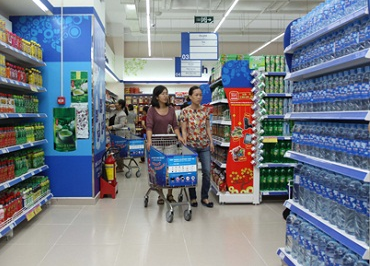 Modern supermarkets in Vietnam have many food options. Image source:
https://vinatech.net.vn/sieu-thi-coopmart-su-dung-gia-ke-nao.html

Collaborating with food banks can provide several benefits for businesses. First, donating to food banks can reduce costs for the transportation and disposal of unused food. Second, tax benefits are often available for charitable donations to food banks. Additionally, food banks track and monitor their inventory, which would also allow companies to track their donations. Lastly, businesses that donate their food would be reducing the environmental costs of food waste, while improving food security. Ultimately, food banks are not simply charities, but they can also act as business partners that provide companies with the resources to contribute to their communities.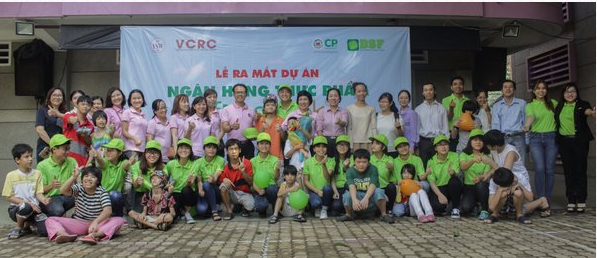 Partnerships between businesses and food banks can provide mutual benefits and serve the local community.
Image source: http://www.foodbankvietnam.com/pages/tinh-nguyen-vien-foodbank-foodbanker
Scarlett Cheung - Foodbank Việt Nam