In 2015, the United Nations released 17 Sustainable Development Goals (SDG) as a part of their 2030 Agenda for Sustainable Development, which aims to create a peaceful and prosperous planet by 2030. Within those 17 goals, two in particular are at the core of the global network of foodbanks. SDG 2 is to eliminate hunger, and SDG 12 focuses on sustainable consumption and production. Section 3 in SDG 12 focuses on halving the amount of food waste and food loss along the food chain. These goals need to become reality to bring stability and hope to millions of people, so thankfully there are already global efforts in place to make these goals to frutition.
Image of Sustainable Development Goal (SDG) 2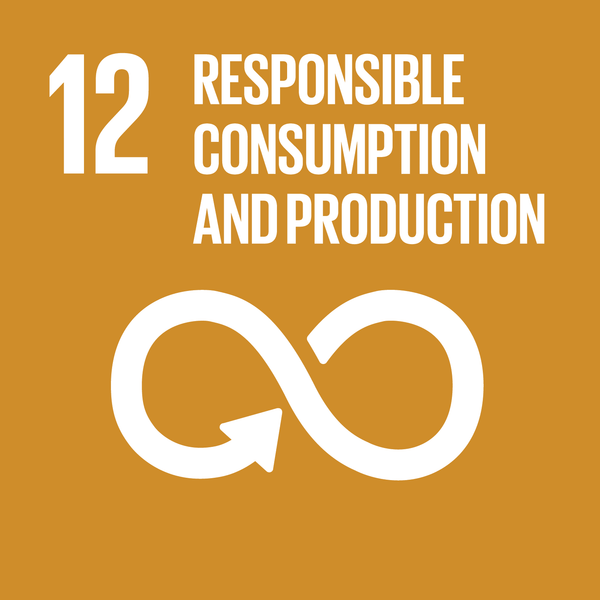 Image of SDG 12
One organization that has made huge strides in achieving these goals is The Global FoodBanking Network (GFN), an international non-profit based out of Chicago, Illinois in the United States. Their goal is to tackle the problems of food waste and hunger by building up foodbanks around the world to rescue perfectly good food that would otherwise be thrown away and feed it to hungry people. Since their founding in 2006, they have partnered with foodbanks in over 30 countries, as well as with the organizations Feeding America and the European Food Banks Federation in order to reach even more countries. Together, these three organizations mitigate 2.3 million cubic meters of food from the landfill and 10.5 billion kilograms of carbon dioxide equivalent from the atmosphere each year. Additionally, in 2017 alone, they fed over 850 million hungry people with this rescued food!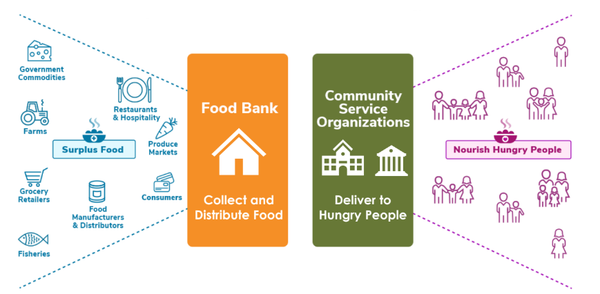 This image shows the standard food bank model – rescue food from many companies and organizations, and partner with community organizations to deliver the food to hungry people.
In order to achieve these goals, GFN partners with new food banks to provide training, planning, and resources to enable them to expand, operate sustainably, and rescue and distribute food.
Once a food bank is part of the GFN, they are connected to many global food bank leaders and staff that continue to work with them to deal with any troubles that may arise as the food bank grows and expands. The GFN offers a leadership institute, online training and engagement opportunities, and technical support to each food bank so that they can grow stronger and more quickly than they could without GFN's help. At the leadership institute, food bank leaders and advocates are able to interact with one another and learn from each other's successes and challenges so they can leave with more knowledge and power to build up their food bank.
Food deliveries from Tkiyet Um Ali, the food bank in Jordan https://www.tua.jo/about/our-story
Additionally, GFN provides grant opportunities to support the endeavors of the food banks, as well as a rigorous certification program option, requiring that a member food bank meet safety and human rights standards. Once a food bank achieves this certification, it opens their doors to new donors and supporters due to the certification's credibility. This increase in funding, volunteers, food donations, and other resources enables the food banks to operate smoothly and effectively, so they can continue to reach more people.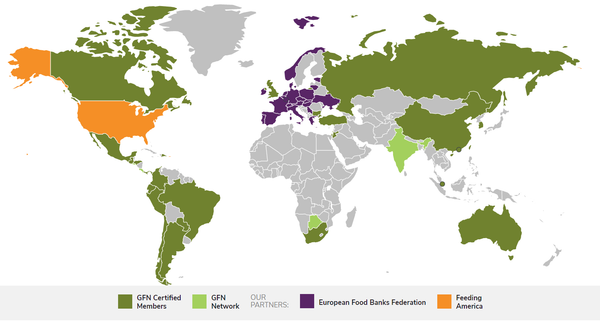 This map shows the connections GFN has with food banks in countries all over the world
https://www.foodbanking.org/what-we-do/our-global-reach/
On the whole, GFN has had a powerful impact worldwide over the past 13 years, and they won't stop working until hunger is eliminated around the world. They are already connected to over 800 food banks worldwide and continue to connect with more each year. Foodbank Vietnam is incredibly lucky to get to meet with them later this month, since we can learn so much about how to achieve SDGs 2 and 12.3 within Vietnam.
Olivia Olson - Foodbank Việt Nam