Hunger and food insecurity have many implications about a population's health and well-being. Both are related to the cycle of poverty, and have further consequences, such as affecting a person's physical and mental development, and productivity for their job or education. According to the Food and Agriculture Organization of the United Nations (FAO), hunger is an issue that exists in every country, affecting 821 million people. This means that roughly 1 in 9 people are undernourished and go to sleep hungry every night. Even though the number of hungry people has been increasing, there has been an equally worrying growth in the number of people who are overweight or obese. In 2018, 40.1 million children aged five and younger were classified as overweight. This form of malnutrition suggests that while daily caloric intake is met, the quality or nutritional value of the food may be insufficient. Being malnourished puts people at risk for long-term health issues, such as stunted growth and vitamin deficiencies, or even cardiovascular diseases and diabetes.

Although there is more than enough food produced daily to feed the global population, roughly 821 million people face hunger or food insecurity. Image Source: The Global Foodbanking Network

The issue of hunger and food insecurity is not about a lack of food, but rather poor distribution and access to nutritious foods. For instance, it is recommended that an average person consumes 2,000 calories per day. Since our global population consists of 7 billion people, we require a total of 14 billion calories per day. According to the Global Foodbanking Network (GFN), we produce 2,900 calories per person per day, which equates to 20 trillion calories a day. This indicates that we have more than enough food to feed everyone in the world. Furthermore, the GFN states that 33% of all food is lost or wasted--not only could the food have been used to feed the hungry, but wasting that food is also a waste of the resources used to produce them. Of the food that is wasted globally, saving 25% would be enough to feed 870 million food insecure peopl

One way many nations have begun fighting against hunger and food insecurity is through food banks. Food banks play a pivotal role in providing food for their communities while also alleviating both food waste. Currently, the Global Foodbanking Network (GFN) operates in 31 countries, with 811 food banks in the network that distribute food through over 55 thousand beneficiary organizations. According to the GFN, food banks have redistributed nearly 2.68 million metric tons of surplus food to the hungry, rather than letting the food go to waste. Moreover, food banks can help educate people about healthier and more sustainable food practices, such as introducing healthy alternatives to processed foods.
The amount of food wasted annually is enough to feed all the hungry people in the world.
Image Source: The Global Foodbanking Network

The foodbanks in each country are unique to their regions and communities, but ultimately, they all relieve hunger by distributing surplus food. At Foodbank Vietnam, our goal is to address food insecurity and poverty by gathering excess food and redistributing them to those in need, such as in orphanages, nursing homes, and shelters. The connections we make with farmers, restaurant owners, and supermarkets when collecting surplus food from them helps spread awareness for preventing food waste at the production and distribution level. Having a large source of collected food also allows us to be prepared for emergencies and disasters in the area. Monthly activities are organized to provide meals for disadvantaged people, while also teaching volunteers how to cook nutritious meals and to be conscious of food waste. Being able to work with local community members and organizations allows us actively implement change at the consumer level.

Hunger does not simply impact individuals, but whole communities and nations as well. As such, it will take a collective and global effort to end hunger and waste. As Foodbank Vietnam continues to grow, we hope to collaborate with more organizations to feed more people and inspire more people to join the fight against hunger and food waste.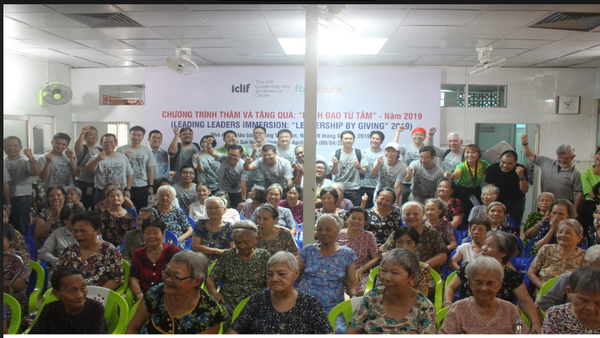 Foodbank Vietnam collaborated with a nursing home to host a cooking event to feed the elderly. Image Source: Foodbank Vietnam
Scarlett Cheung - Foodbank VietNam