According to the UN, there is an estimated 821 million people who face hunger globally. Meanwhile, over one-third of all foods produced each year are wasted. Hunger and food waste are issues that affect every country in the world, and many communities have realized that the two issues are correlated. Keep reading to learn how some organizations have found unique ways to reduce food waste and fight hunger in their communities!
1. Hands for Hunger (Nasssau, Bahamas)
Hands for Hunger's mission is to redirect food waste and to raise awareness for hunger. Through its food rescue program, the organization collects food from donors every day (such as grocers, farms, and hotels) and brings it to places in need (like shelters, churches, soup kitchens, and community centers). Its food storage program focuses more on collecting non-perishable food through community food drives, which are distributed to places in need. Hands for Hunger also believes in the power of educating communities about hunger, so they teach lessons to help inspire students of all ages to advocate, food-raise, and fundraise.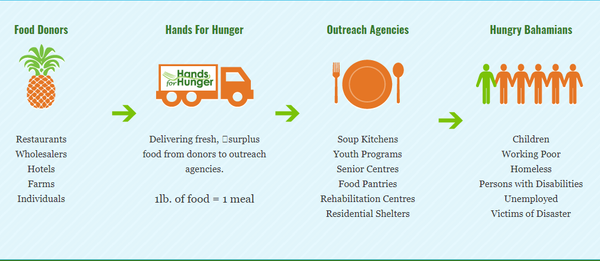 Image source: https://www.handsforhunger.org/

2. OZHarvest (Sydney, Australia)
OzHarvest rescues food from different donors ranging from delis, to airports, to TV shoots, and donates them to charities around the country. The group places high importance on education and community engagement, so it initiated the NEST and Nourish programs that offer lessons on nutrition and cooking.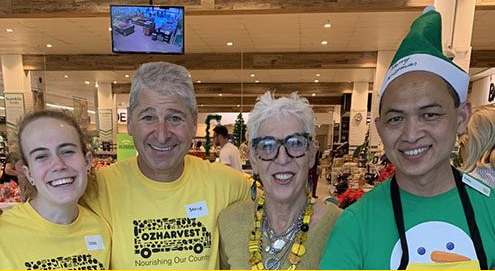 Image source: https://www.ozharvest.org/
3. Satisfeito (São Paulo, Brazil)
Satisfeito partners with restaurants and cafeterias to create different types of sustainable dishes. Some of the ways a dish can be considered sustainable are if it uses all parts of the ingredients or if the ingredients are locally-sourced. A portion of the cost of the dishes is also donated to other charities or organizations that are fighting hunger.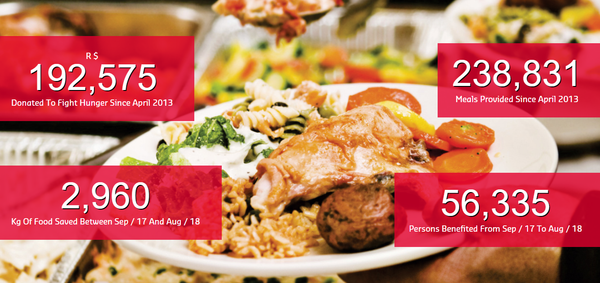 Image source: http://www.satisfeito.com/en
4. World Vegetable Center (Shanhua, Taiwan)
The World Vegetable Center fights hunger by conducting research on farming and vegetable production practices. It focuses on the importance of how vegetables provide nutrients and how diets can affect people's lives. Its research also consists of developing sustainable farming practices, like exploring integrated pest management and how to grow crops that are resistant to the effects of climate change.
Image source: https://avrdc.org/about-avrdc/about-us/
5. FoodCycle Indonesia and A Blessing to Share (Jakarta, Indonesia)
Parties and events are often sources of large amounts of food waste, and party organizers can have difficulty managing it all. FoodCycle Indonesia works to distribute the surplus food from those events to organizations that serve those in need, such as the Foodbank of Indonesia. It also repurposes ugly produce from farms to sell and collects organic waste from different places like corporate buildings, malls, and apartments, which is composted or converted to animal feed. FoodCycle partnered with Bridestory to create A Blessing to Share, a program where weddings organizers can register their event to have their surplus food collected instead of thrown away.
Image source: https://ablessingtoshare.bridestory.com/
6. Feedback (London, England)
Feedback is a campaign group whose goal is to fight food waste at all stages of the food supply chain to establish a sustainable food system. They use investigative research and campaigning to encourage producers and retailers to reduce their food waste and mobilize communities to participate. One of Feedback's projects includes organizing volunteer opportunities to glean, which means going to fruit and vegetable farms and harvesting their surplus crops. Another project is The Pig Idea, a campaign to allow farmers to use treated surplus food as feed for pigs, which would help redirect food waste from landfills.
Image source: https://feedbackglobal.org/campaigns/pig-idea/about/
7. FoodForward SA (Cape Town, South Africa)
FoodForward SA uses the food banking model to redistribute food to vulnerable populations in South Africa. It partners with farmers, manufacturers, wholesalers, and retailers to collect their surplus food and stores them to be shared with beneficiary organizations. FoodForward SA also works on development projects like providing breakfast for school students.

Image source: https://foodforwardsa.org/
8. FoodLoop (Cologne, Germany)
FoodLoop developed a smartphone app and system where food retailer stores can mark food items that are nearing their sell-by dates. Because of these dates, stores are forced to throw away these foods, even though they are still safe to eat after the date. The FoodLoop app shows customers what items are discounted at which stores, which can help them save money and prevent food from being wasted! Moreover, the app can be personalized to make suggestions based on your preferences.
Image source: https://www.foodloop.net/en/
9. Iskashitaa Refugee Network (Arizona, USA)
The Iskashitaa Refugee Network partners with UN refugees and asylum seekers who have been resettled in Tucson, Arizona. With the help of the refugees, volunteers, and local organizations, IRN reduces food waste by gleaning and redistributing food to feed under-served families throughout Southern Arizona. IRN also offers workshops on proper food preservation and food demonstrations that show the significance of food and culture.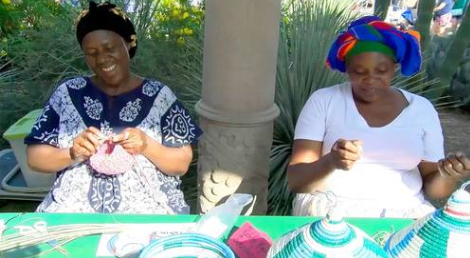 Image source: http://www.iskashitaa.org/
10. Robin Hood Army (Delhi, India)
The Robin Hood Army is a volunteer-based organization that collects surplus food from restaurants and the community to distribute it to those in need. Some people they have served are homeless shelters, orphanages, public hospitals, and elderly homes. Their goal is to expand globally and create more local chapters that can serve their communities.
Image source: https://robinhoodarmy.com/
Scarlett Cheung - Foodbank Vietnam